Garden Warriors Ltd.

- Your Respect is our profession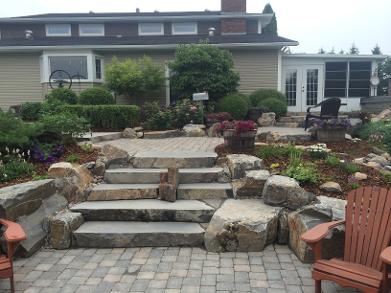 About Us
We offer a range of services:
We believe in Quality, and Service. We back your products with a One Year Warranty, and use the highest quality products in your installation.
Garden Warriors Ltd is also fully licensed, insured has WCB coverage. We have our Prepaid Contractors License.

We are strongly committed to safety, we have a comprehensive safety program, and have someone trained in First Aid by St Johns Ambulance on every job.

Services
If you are looking to renovate a backyard or build a garden oasis, we can help you capture your dreams on paper and help bring them to life.
Step 1: Book a free Landscape Consultation
Step 2: Have us or our outside consultants prepare a Professional Landscape Design.
Step 3: Meet with us to go over your design, and budget.
Step 4: Let us build your garden oasis.
Step 5: Enjoy!
Please see our other pages for more Photos
Qualifications
David Murray, LAT, BLA Director of Operations and Landscape Designer, has a Bachelor's degree in Landscape Architecture, a diploma in Landscape Architecture from NAIT and over 17 years experience, in landscape construction and design. He has experience planning, managing, and executing Landscaping projects from high end residential and commercial jobs to small backyard patios. Our professional attitude and reliable service is uncompromising and the foundation of our business.
Kyle Boykco has over 15 years experience building patios and retaining walls. Kyle has depth of knowledge and attention to detail makes him invaluable as a Foreman for Garden Warriors.
Shane Snow has been with the company for five years providing the highest level of quality of service and execution. He specializes in Water features, Rock Walls and Patios. He brings a friendly attitude and easygoing nature to the job. His passion in landscaping is only exceeded by his passion for family.
Tamara Tymchuk has been behind the scenes for four years and in the construction industry her entire life. Her commitment to excellence and precision isn't taught, some people are just born with it. She specializes in Waterfall maintenance and construction, paving stone patio installation. She has pretty good Customer Service too.
Cal Macquarrie a surveyor by trade has been with garden warriors for two seasons and has four years experience in landscape construction and contributes to the highest level of quality of service and execution.

Serving the Greater Edmonton Area | 780 974-3730