Garden Warriors Ltd- Bringing Nature Indoors
What is a Waterwall?

A Waterwall combines the classic elements of water, stone encased in a modern metal frame creating a stunning and dramatic transformation your living space, office or business. Allow the Serenity of moving water to the timeless elegance to any space.
What are the benefits of owning a waterwall?
The sound of water can increase the feng-shui of an space, reducing stress and creating a relaxed environment for you and your visitors.

You can promote your business or add your unique personal touch to any unit with a laser etched or waterjet cut logo or pattern. These units available in standard and custom sizes.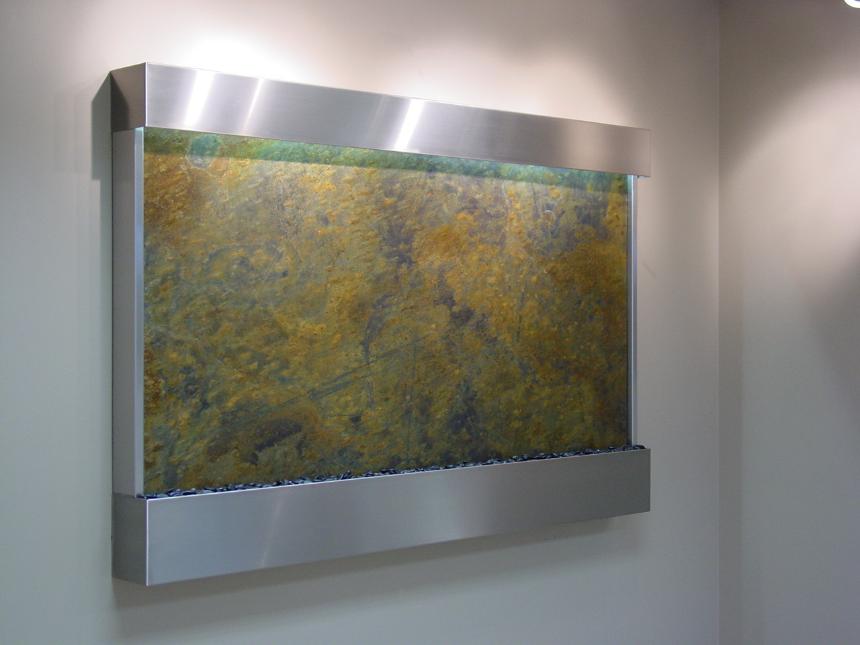 Canadian Made

Our Nature Indoors Canadian made waterwalls are self-contained, backlit units crafted of slate and stainless steel.

These industry leading beautiful design, outstanding craftsmanship and easy maintenance, held to the highest standard. They incorporate an revolutionary non-clogging discharge system, switching and backlighting standard on all units. Freestanding, custom and easily mounted standard units are available in a variety of finishes to match any décor.
Size Dimensions Approx. Weight Weight with Water Wattage
Small 42"x26" 120 lbs 160 lbs 44W
Medium 42"x50" 210 lbs 290 lbs 73W
Large (Hori.) 48"x72" 350 lbs 470 lbs 108W
Large (Vert.) 84"x40" 350 lbs 470 lbs 117W
Tall 58"x24" 140 lbs 180 lbs 44W
Please contact us for Pricing and Installation